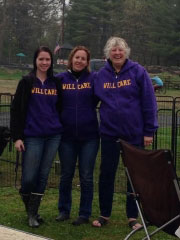 Willcare was started by my Aunt, Carol Willumsen, who cleverly inverted her name to produce Willcare!
She bred champion Whippets under this kennel name and was instrumental in encouraging and mentoring me in the world of dogs. I began breeding Labradors in 1979. I adopted the WIllcare Prefix in the late 80's, registered it for all breeds with the AKC and have been breeding under this family name since.
In 2017 I invited my friend and travelling companion, Robin Magee from Windy Ridge Labradors, to join me as a partner in the Willcare Dynasty. Robin brings years of experience to the team and together, Willcare will live on.
While Robin and I focus on the show aspect of our Labradors, her husband Jim actively works them in the field and water as his hunting companions. Jim brings out their natural abilities. We have been able to provide many very good looking Labradors to those that specifically purchase them for hunting. Our dogs truly can "do it all".
We strive to breed exceptional Labradors in health, temperament, and conformation! All colors reside at both our houses. We really enjoy the challenge of just the right pedigree combination for the perfect Labrador- we learn something each time, mostly, it is a work in progress.